Did you know that ...
... BG5 used to house the UvA's student restaurant? A popular place to eat and drink
... part of BG5 is currently managed by Ad Hoc leegstandsbeheer
... part of BG5 is currently being used as offices by the contractor working on the University Library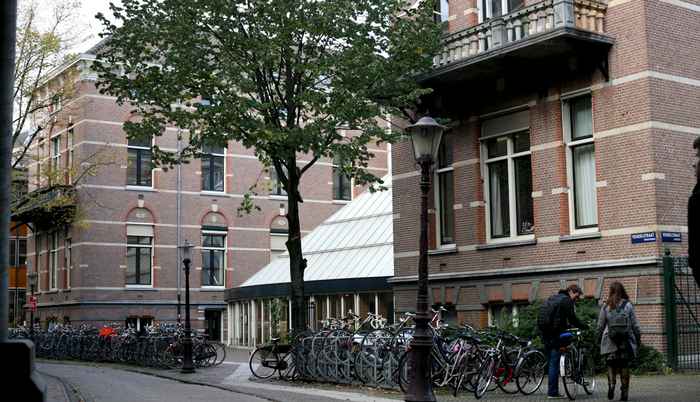 Function and facilitities
Like other University of Amsterdam (UvA) buildings in the University Quarter, BG5 is included in the redevelopment. In its current state, the building is no longer suitable for future teaching activities, so a new building design is being drafted. In future, BG5 will likely be used to house large teaching rooms and study spaces for the Faculty of Humanities, while also becoming a location for catering facilities. A design procedure is set to start shortly.
History of BG5
On the Binnengasthuis premises along Vendelstraat, in 1888-1890 the Klinisch Ziekenhuis, a clinical hospital, was built. Commissioned by the Gasthuisbestuur, the hospital board, the building was designed in sober Dutch Renaissance Revival style by H. Leguyt according to a pavilion system. The building forms part of the Binnengasthuis building complex, which included a number of clinics on the Binnengasthuis premises.
Original building floor plan
The wards were located in two wings, with the west wing serving as the men's clinic and the east wing as the women's clinic. General facilities were located in the connecting section. The rounded building projection housed two lecture rooms, one above the other, which had an amphitheatre design.
In the 1980s, the University of Amsterdam filled in the space between the two long pavilions with a transparent, pyramid-shaped roof to create a new student restaurant.
Source: Cultural Heritage Agency, Rijksmonumenten.nl/monument/518306